Theatre Reviews
CREDIT ILLUSTRATION BY MATT PANUSKA
AUGUST 24, 2015
His Royal Hipness
"Dig Infinity!," at the Fringe Festival, celebrates the profound comedy of Lord Buckley.
BY HILTON ALS
I first heard the poet and comedian Lord Buckley's sui-generis, incredible music-as-talk during a dance performance by Karole Armitage. This was a number of years ago, but sometimes, when I close my eyes, I can still see one of Armitage's impossibly long legs lifting and extending in front of a David Salle backdrop as Buckley's recorded voice fills the theatre. It was the perfect soundtrack to Armitage's electric and cool world, where movement happened very slowly, or very fast. Later, I learned that the Buckley piece was called "Subconscious Mind," and that it was just one example of the California-born artist's unique blend of hipster slang mixed with jazz's erratic, smooth rhythm.
As a child, Richard Myrle Buckley (1906-1960) performed on the street with his sister. Going on to m.c. at dance marathons in Chicago and elsewhere, he developed a persona—a "Lord" who had an aristocratic bearing, sported a wax mustache, and sometimes wore a pith helmet. (Buckley's English parents no doubt contributed to his stage character, along with jazz royalty like Duke Ellington and Lester (Prez) Young.) Sometimes backed by a small combo, Buckley emitted various sounds—he whistled or imitated a horn—that complemented his monologues. No matter what his effects, though, Buckley's genius always felt as though it were coming from a real place, somewhere underground, where cats and chicks wore berets and argued about existentialism with musicians and painters who didn't know there was another eleven o'clock in the day. Instead of delivering the usual Shakespeare jive—"Friends, Romans, countrymen, lend me your ears"—Buckley would say, in his gravelly voice, "Hipsters, flipsters, and finger-poppin' daddies: knock me your lobes." In "Subconscious Mind," he takes us on a deep journey about being with the right lady—if she exists. How would we know? What appears to be real is in part created by our imagination.
Lord Buckley was an amazing self-creation, a white man who made a beautiful show of black jazz styles, and his life and work are being commemorated and examined in "Dig Infinity!" (at the New York International Fringe Festival, through Aug. 27). Starring the writer and performer Oliver Trager, the play is drawn in part from Trager's 2002 book of the same title. (The book is a gasser: well researched, respectful, comprehensive.) In the nearly hour-and-a-half-long piece, Trager talks a lot of dreamy mess with Orpheus and God while doing what Buckley did best: putting the humor back into jazz without losing any of the genre's free-fall feeling. ♦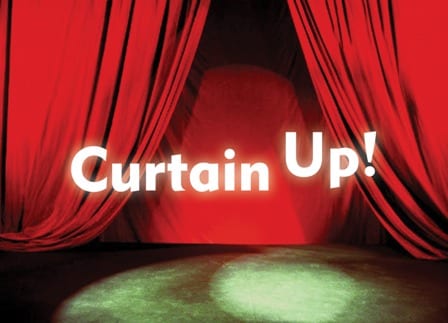 Dig Infinity!
Oliver Trager wrote, directed, and stars in Dig Infinity! He lives his Lord Buckley, whose groove goes beyond imitation. A bebop humanist who lived a crazy life, Buckley was at one time mixed up with and financed by Al Capone. He toured for the troops in WWII and appeared on Ed Sullivan, but mostly in this work we learn how he enjoyed hanging out with fellow founding hipsters and inspiring a new generation of cool cats. You can hear the flipped out angel who provided Kerouac with inspiration with his self-described "jazz semantic": "Hipsters, flipsters and finger poppin' daddies, knock me your lobes." A cool drummer (Boris Kinberg) and hip, multi-instrument musician (John Kruth) provide important musical accompaniment. Lord Buckley, who recently checked out of the breathing community, awaits the adjudication of his case. He's stoned when he meets with Orpheus, his advocate with the Big Kahuna. Orpheus (Russell Jordan), a DJ with a radio show, must meet his quota with this, his last customer before he, himself, crosses the river to the other side. (Orpheus also seems to be Charon.) Eventually "The Hip Messiah" pays the ferryman to cross the river. Having lived in his own spaced-out dimension, he has carried "The Nazz's" message, which is to stay cool. And he has spread the news that the universe is a house of love. At Venue #11. 90 minutes. [Osenlund]

by Lee Kinney on 9.2.15
BOTTOM LINE: A mystical life-in-review of the famed hippest flipster, Lord Buckley.
Lord Buckley, the mid-century performer and poet whose cultural relevance has often been overlooked despite being variously regarded as "the hipster's hipster" and "the hip messiah," has been the subject of a decades-long fascination for writer Oliver Trager. Following recognition as 2014 Planet Connection Theatre Festivity's Outstanding Adaptation, Trager's most recent inquiry into the life of His Royal Hipness, "Dig Infinity!," appears as part of the 2015 NY Fringe Festival and is a sampling of Buckley's most famous monologues performed capably by Trager himself.
"Dig Infinity!" imagines a meeting between Lord Buckley and Orpheus (played mysteriously by Russell Jordan), the Greek poet and musician of myth. On the midnight following his death, Buckley appears as a guest on a strange radio program, hosted by afterlife-chaperone Orpheus. Over the course of the program, the two debate art and philosophy as Buckley steps into moments of his past life to revive his trademark performances. The life-in-review comes to be a kind of reckoning with God as it becomes clear that Buckley's negotiation with the Almighty for an opportunity to perform on His stage carries much greater spiritual heft.
In the spirit of the radio-show conceit, Trager is backed with live musical accompaniment by John Kruth and Boris Kingberg, who provide suitably ethereal jazz undertones to support Buckley's own percussive cadence. The music competes at times with the text, but it pleasantly places the piece in a smoother, and slicker, time.
Though the threads of the loose narrative framework are tough to tie together, Trager's homage to Buckley is both deadly accurate and a worthy tribute to a neglected talent, and the play captures the free-spirited nature of its namesake, both in tone and content.

"Dig Infinity! Lord Buckley Gets Mythical at the Indian Cafe"
by Hannah Menzies From her blog: @hannahmenzies comics, art events, reviews and more
November 6, 2012
This "long night's journey into day" . . . really consisted of the weighing of Buckley's soul. Was he really full of "big high concepts" that could change the world, or just a hack "clown" singing for his supper? Author Trager himself played the role of Buckley with great virtuosity for a self- proclaimed amateur actor, delivering the non-stop linguistic somersaults necessary, as well as singing parts, with unrelenting energy and pathos. Russell Jordan, reading for the part of Orpheus threatened to steal the show with his carefully measured and subtly timed dialogue, bringing a weighty substance to the role of Orpheus that captured the feel of Hadean realms and a cosmic perspective on human frailties.
Buckley's life, hobnobbing with many of the influential artistic and pop-culture personalities of the twentieth century, as well as stumbling in the gutters of his own highs and lows, made for excellent dramatic material. It is to Trager's credit that he delivered the darker aspects of Buckley's life with great honesty and sympathy rather than simply presenting the brighter side of Buckley's naturally ebullient personality. The play's narrative was interspersed with passages from Buckley's own notable performance routines, such as "The Nazz," bringing the Nazarene Jesus Christ's miracles to life . . . the historical portions of the play were interlaced with significant themes such as the long road to racial equality.
The more literary aspects of the play also called on the high themes that Buckley discussed autobiographically, such as a love-based conception of the universe in which we ought to "worship people" as little parts of God's nature, his questioning of religious concepts that could easily be interpreted as heretical by orthodox establishments, and overall, whether an imperfect life can nevertheless make an impact on the world.
With Orpheus as guide, Buckley witnesses both the full tragedy of violence and hatred in human history, but also the "other side" of the world with transformational storytelling, and the creation of beauty through art in a "twin bill" . . . Trager's orphic myth presented an orphic solution of sorts: like Orpheus and Eurydice, united after a sojourn in Hades, Lord Buckley is reunited with his inspiration: Lady Buckley. Maybe, for Buckley, that would have been reward enough for his labors on behalf of culture and society.
by Richard Hinojosa · August 23, 2015
The first time I heard a Lord Buckley monologue I thought I'd stumbled on a secret code that I could use to unlock new meanings inside everyday language. His "hipsemantic" sermons have this way of breaking stories and speeches down to their base components such as his exploded drawing of the Gettysburg Address. Lord Buckley was the godfather of all hipsters and inspired countless comedians, musicians and writers but his legacy goes largely unnoticed. Thankfully, Oliver Trager and Apocalypso Theatre Collective bring his brilliance to life so we can remind ourselves of his still relevant insights into some of our most closely held passions and beliefs.
The play is set on the night of Buckley's death. His spirit goes to a mysterious radio station where he is compelled to tell his life story to a DJ named Orpheus. Between flashbacks to points in his life, Buckley performs a "best of" sampling of his work including "The Nazz," "Black Cross," "Subconscious Mind," and "Jonah and the Whale," to the amazement of his interviewer. Halfway through the radio interview ends and Orpheus and Buckley begin to talk more and more candidly about the nature of the truth. Buckley's view of the transitory nature of the truth gets him into some hot water with god and he finds himself on trial for his soul. He redeems himself with the climactic ending of "The Nazz" and, I assume, goes peacefully into the light.
Playwright and Lord Buckley impersonator extraordinaire, Oliver Trager has penned (and performed) a fantastic journey through the life of one of the most outrageous characters in the history of performing arts. His knowledge of Buckley's life and style is vast and penetrating. The dialogues with Orpheus and god grapple with questions about race, religion and sex that are poignant and resonate with current issues. He depicts Buckley as some sort of savior and even gets a little self-righteous but he keeps himself in check by admitting that being on trial for your soul is a little "corny". Overall, I most enjoyed Trager's performance of Lord Buckley's signature work and I would have been content with a show that was just monologues and music.
Trager is backed by a pair of great musicians (John Kruth and Boris Kinberg) playing drums, flutes, guitar and sitars. They are the groove behind all the scatting and chatting. They bring the show to another level. Trager's portrayal of Lord Buckley is astonishing. I was mesmerized by his mastery of Buckley's cadence, hipster slang and aristocratic snobbery. He fully embodies the character from head to toe. Like one of those Mark Twain impersonators, you wonder if he's like this all the time. Russell Jordan is solid as the doubting Orpheus and Ridley Parson shows the strength in his voice as god.
"Dig Infinity!" is a one of a kind experience. The mix of live music and Buckley's words transported me. It left me wanting more. The "stroll through his garden" was all too temporary. FringeNYC fans will really dig this show. And as Lord Buckley reminds us "Dig and thou shalt be dug."
Book Reviews
Baltimore Sun
https://www.baltimoresun.com/news/bs-xpm-2002-04-28-0204280351-story.html
Salon
https://www.salon.com/2002/06/26/buckley_4/
Kirkus Review
https://www.kirkusreviews.com/book-reviews/oliver-trager/dig-infinity/
Chicago Tribune
https://archive.triblive.com/news/diginfinity-explores-life-of-lord-richard-buckley/
Baltimore Chronicle